We appreciate your interest in our unique Organosandwich
In the  joint research project 'Organosandwich', ThermHex Waben GmbH and the Fraunhofer IMWS have tackled the subject of the continuous production of Organosandwich semi-finished products as well as the thermoforming and functionalization of Organosandwich semi-finished products by hybrid injection molding. In fundamental investigations of the individual process steps, the basic feasibility of Organosandwich technology was demonstrated first. The mechanical characterization of a selection of initially planar Organosandwich semi-finished products provides information about the characteristic values which can be achieved. In currently ongoing and further research and development work, on the one hand additional skin materials, in particular consisting of UD-tape laminates, are being investigated with regard to their processability and their application potential. On the other hand, the focus of the work and also the accompanying virtual process- and structure-related design methodology relates to combining the process steps described here (thermoforming and injection molding) to create an Organosandwich hybrid process.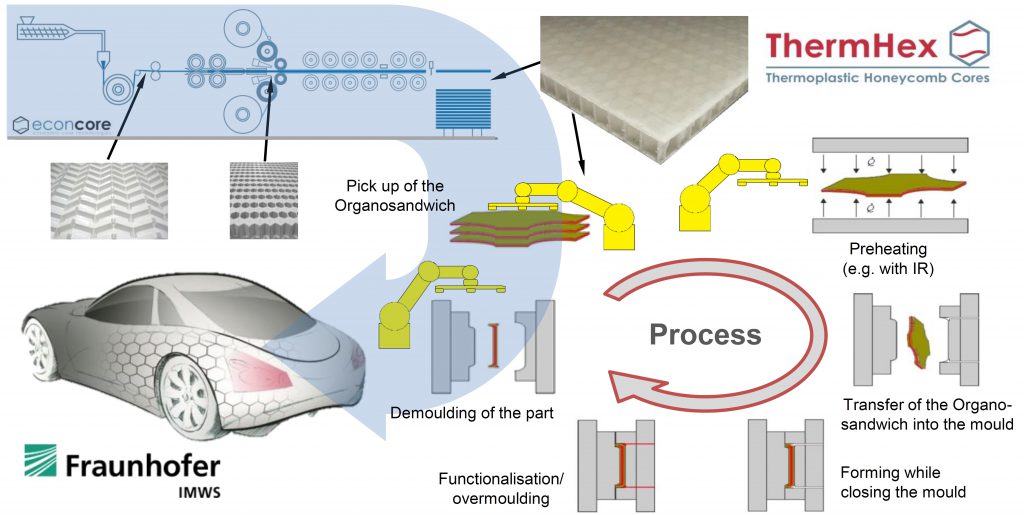 Organosandwich semi-finished products consist of two very thin skin layers of thermoplastic fiber composites (organosheets) which are separated by a thermoplastic honeycomb core to provide high stiffness at minimal weight, but without additional ribs for stiffening. These semi-finished products become particularly cost-efficient when applied in-line to the honeycomb core in a continuous process and bonded to it.
In subsequent production steps, they are then further processed into components. To do so they are, for example, thermoformed and functionalized by injection molding. Only the continuous ThermHex process of honeycomb production on a single production line has made possible the production of cost-efficient planar Organosandwich semi finished products in a continuous production which integrates the continuous application of the organic sheet skin layers by lamination. Furthermore, with automated in-line quality control, critical quality features in the process can be efficiently monitored.